Disoderly Forest EP / A-Inc / Afu Lab 002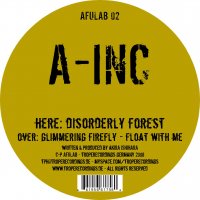 A1: Disorderly Forest
B1: Gimmering Firefly
B2: Float With Me
Audio clip: Adobe Flash Player (version 9 or above) is required to play this audio clip. Download the latest version here. You also need to have JavaScript enabled in your browser.
Label: Afulab
Distributer: Neuton
Release date: 19 May 2008
http://www.myspace.com/troperecordings
http://www.neuton.com/
Play Support:
Richie Hawtin, Ricardo Villalobos, Monika Kruse, Len Faki, Remute, Mihalis Safras, Patrick Lindsey, Robin Porter, DJ Wada, Hiroki Esashika
AFULAB welcomes it's second international artist Akira Ishihara from Japan !
After producing for labels as Monoid, Kaufe Musik, Immigrant, Kiddaz, Reel Musiq aso. and DJing around the world he's now landed with his first strike for AFULAB !
Started by DISORDERLY FOREST, these three tracks will fit perfectly into the successful line of the AFU limited artists and it's fluffy and funky sounds will definitely be heard pretty soon on the floors and clubs around the world !
The tracks GLIMMERING FIREFLY takes you further on A-Inc's trip and is rounded up by FLOAT WITH ME !
A nice package and a great number 02 in the already rockin' AFULAB line !
?